The title is:
"She lives in a world of illustrations"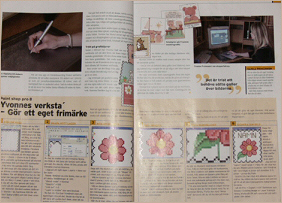 Quotations:
"What was used to be done by needles and thread are now made by Yvonne with a keyboard and a mouse.
The digital crafts has transported embroiding into the world of computers."


---
"Today Yvonne is creating digital crafts with pixels instead of thread."
---
"In front of her screen where the keyboard usually is placed she instead has a mousetablet, the keyboard is shuffed away as far as possible but still reachable. She draws with the mouse using the pentablet as a mouse-pad"
---